Calefax – Matangi – Motamedi – Frerichs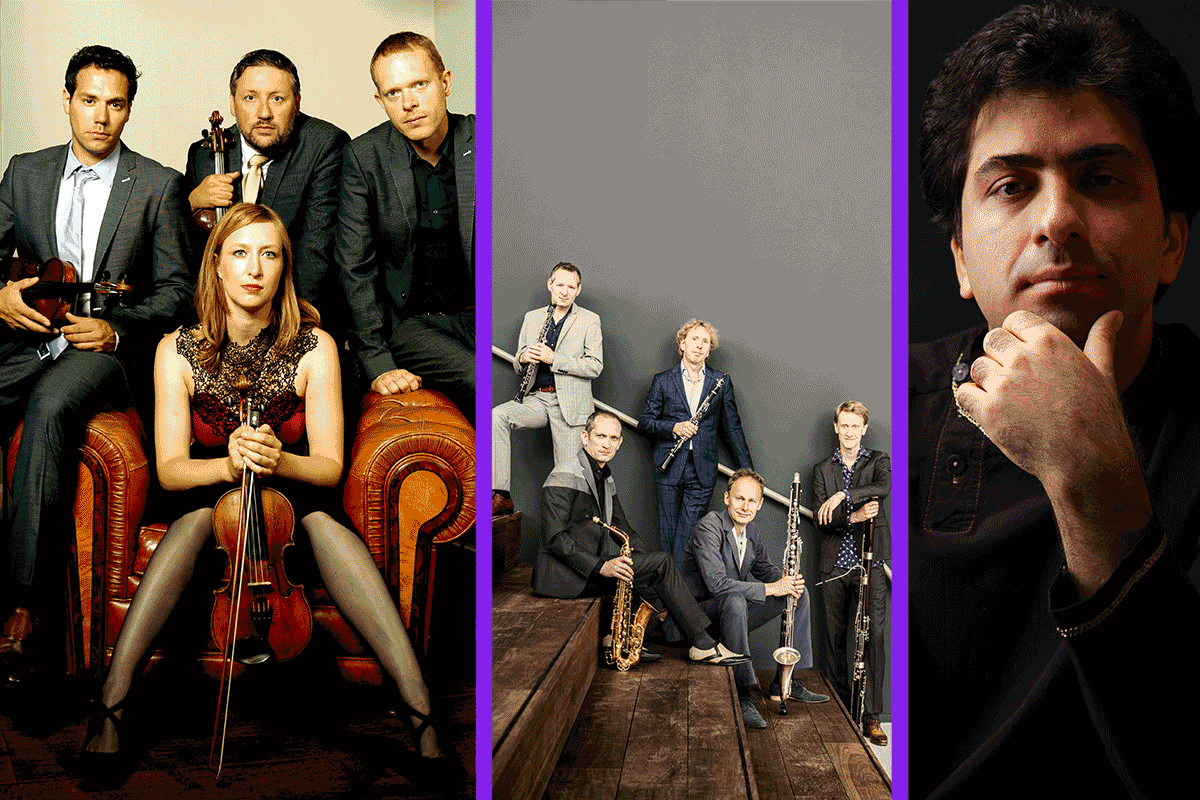 The Oriental Landscapes festival presents a special program: the first meeting between the Calefax Reed Quintet, Matangi String Quartet, Rembrandt Frerichs Trio and vocalist Mohammad Motamedi. The program consists of compositions by Oriental composers, or Dutch composers who were influenced by the Oriental world. The compositions are performed in different formations. As the first performance you listen to the collaboration of the Rembrandt Frerichs Trio & Mohammad Motamedi. After the break, there are performances by the Matangi String Quartet and the Calefax Reed Quartet. Moreover , they perform together on stage. The three ensembles and singer Motamedi complete the evenining with a special arrangement by Calefax.
Mohammad Motamedi is one of the biggest names in the Iranian singing world. He is known for his unique interpretation of Tahrir, an elegant Iranian singing technique that he effortlessly performs and fills with impressive creativity. Motamedi sticks to the Persian classical music repertoire 'radif,' but also makes room for subtle innovations in tradition. He featured 'Qasida' together with Rosario la Tremendita a dialogue between Persian classical singing and flamenco at Flamenco Biënnale Nederland, with which he made his debut in the Netherlands.
Pianist Rembrandt Frerichs sought a lighter, atmospheric sound and found it in the fortepiano, once brought to old Persia by Napoleon Bonaparte as a gift to the Shah. With Tony Overwater on the violone (the ancestor of the double bass) and Vinsent Planier on the Whisper Kit (his self-developed drum kit) he forms the Rembrandt Frerichs Trio.
The Matangi String Quartet consists of the latest generation of classical musicians and is at very big name in Dutch classical chamber music. They are often described as communicative, provocative and versatile and are best known for their innovative cross-over projects, where they seek out the boundaries of classical music.
The Calefax Reed Quintet consists of five passionate wind instrumentalists, virtuosos and arrangers. They created a new genre: the reed quintet, and thus form a source of inspiration for many artists in the field.
This concert is organized by Oriental Landscapes in collaboration with Gaudeamus Foundation
Program:
Raad Khalaf: Music for imagined dances from 8 ancient cities in Mesopotamia and Ancient Syria
Calliope Tsoupaki: Triptychon Part III
Babür Tongur: Swirling
Willem Jeths: Maktub
Jean Luc Fafchamps: Sufi Letter (W)aw Dome
Traditional songs arranged for Mohammed Motamedi, Calefax, Matangi and Rembrandt Frerichs Trio by Kaveh Vares and Rafael Fraga.
Performers:
Rembrandt Frerichs Trio
Rembrandt Frerichs – pianoforte
Tony Overwater – violone
Vinsent Planjer – Whisper Kit
Mohammad Motamedi – vocals
Matangi String Quartet
Maria-Paula Majoor – violin
Daniel Torrico Menacho – violin
Karsten Kleijer – viola
Arno van der Vuurst – cello
Calefax Reed Quintet
Oliver Boekhoorn – oboe
Ivar Berix – clarinet
Raaf Hekkema – saxophone
Jelte Althuis – bass clarinet
Alban Wesly – bassoon
Details:
Categories
Concerts&nbsp, Utrecht
Venue:
Tivoli Vredenburg, Vredenburgkade 11, 3511 WC Utrecht