Emlyn Stam, Kamerkoor JIP ft. Shwan Sulaiman and Wasim Arslan | Pilgrimvaderskerk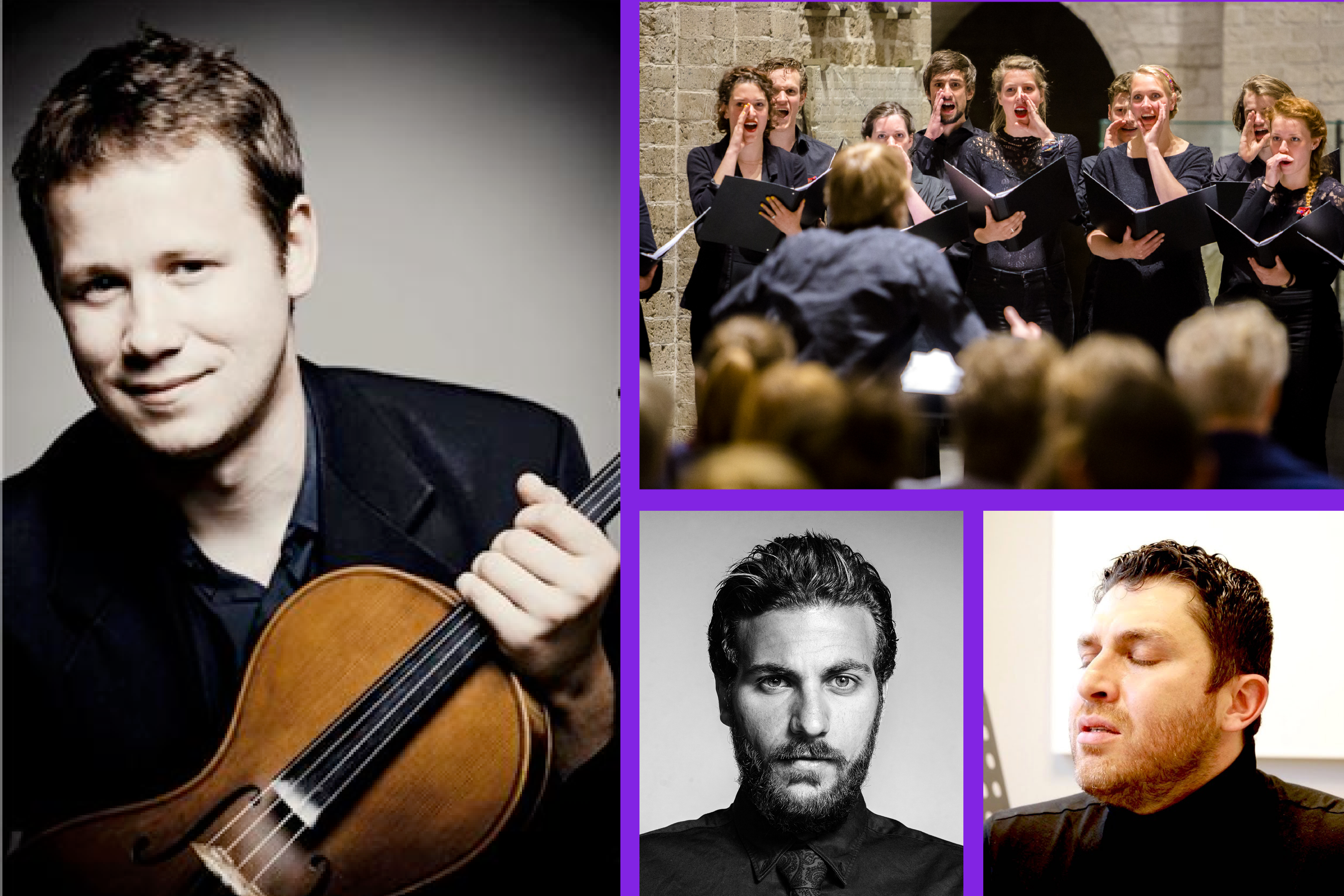 1. Emlyn Stam from New European Ensemble will play "30 Articles" – a piece for viola solo and electronics – by the Syrian composer Zaid Jabri.
2. Kamerkoor JIP ft. Shwan Sulaiman and Wasim Arslan
Kamerkoor JIP is a young choir from Utrecht, which consists of a group of young adults who like to play music at a high level in their free time. The choir is led by the brothers Jonathan Alexander Ploeg and Imre Arthur Ploeg. In the past five years, Kamerkoor JIP has become one of the most famous and successful chamber choirs in the Dutch amateur choir world with its formula of concerts around urgent social themes. With the special thematic and up-to-date programming, Kamerkoor JIP takes its own place in the landscape of Utrecht choirs. The JIP themes are in line with what lives in society and shed new light on this.
Shwan Sulaiman was born in the ancient city of Erbil in Iraq and has lived in the Netherlands since 1996. He has his exceptional vocal talent from his father, a well-known singer of Kurdish folk music. At a young age he learns the string instruments' ud and baglama. Later he immerses himself in Arabic, Persian and Turkish music and all kinds of spiritual singing styles. In Rotterdam he studies at Codarts where he is currently following the master in arts education and graduated in 2016 in classical Ottoman music. With his powerful voice and emotional singing, Sulaiman makes a deep impression wherever he performs.
Wasim Arslan is a young musician from Aleppo, Syria; Wasim did a vocal course with the best vocalists in Aleppo – Safwan Abed. Wasim feels a sense of responsibility to represent his home country Syria, and to give his music and talent a bigger role in uniting people and building bridges at a time of war and division. He has been performing at several events in the Netherlands such as Mysteryland, What Design Can Do? in the Muziekgebouw theater and Global Goals Jam, leading up to the creation of Sarsaria Band, alongside with another four international talents.
Violist Emlyn Stam is active as a chamber musician, soloist, orchestral musician and performance researcher in the Netherlands and throughout Europe. For seven years he was assistant principal violist of the Residentie Orkest in The Hague under Neeme Järvi. Other orchestral work has included appearances is as a guest principle with Philharmonia Orchestra, the BBC Welsh National Orchestra and the Toulon Opera. Emlyn is a founding member of the New European Ensemble as well as the ensemble's Artistic Coordinator.
Door open: 19:30
Program start: 20:00
Details:
Categories
Concerts&nbsp, Rotterdam
Venue:
Pelgrimvaderskerk, Aelbrechtskolk 20, 3024 RE Rotterdam, Nederland