Matangi, Calefax ft. Mohammad Motamedi and Rima Khcheich, Mike Fentross & Maarten Ornstein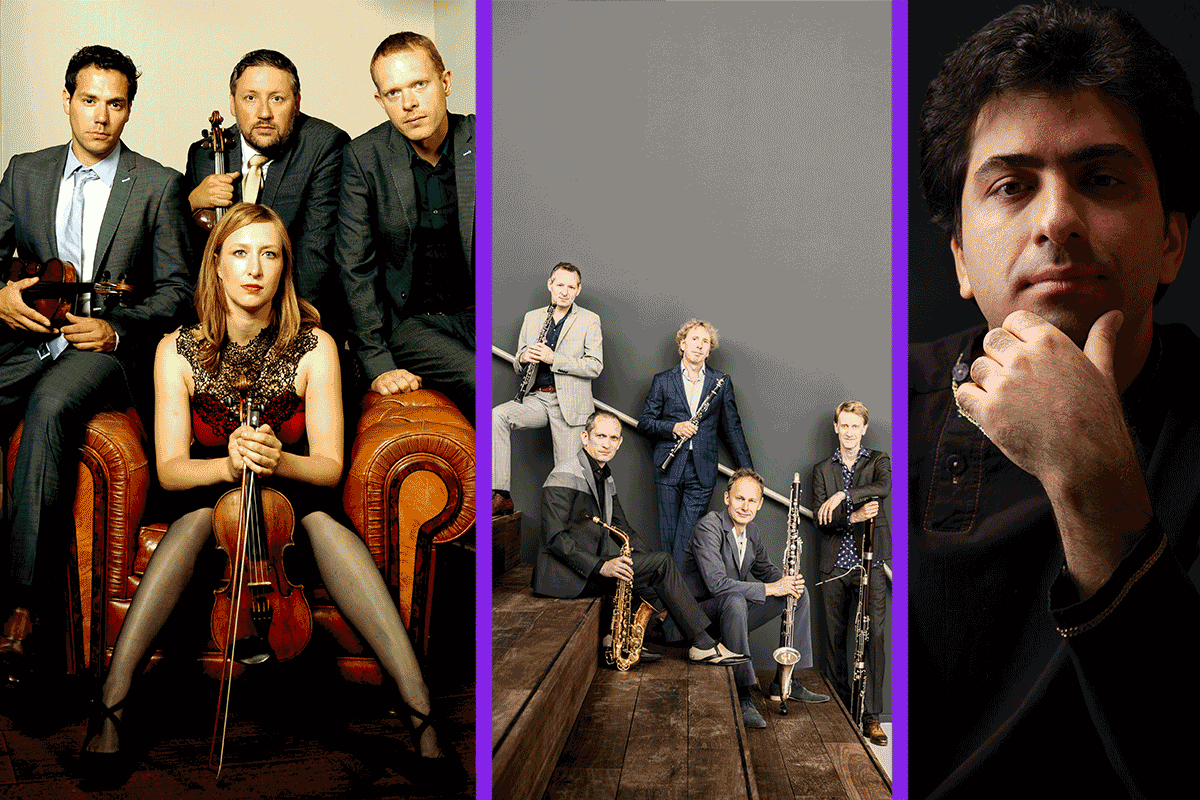 Oriental Landscapes festival opening at De Duif Church
The Oriental Landscapes festival presents a special program: the first meeting between the Rima Khcheich Trio, Calefax Reed Quintet, Matangi String Quartet and the Iranian vocalist Mohammad Motamedi. The program consists of compositions by Oriental composers or Dutch composers who were influenced by the Oriental world. Those compositions are performed in different formations. First, you hear the Rima Khcheich Trio, after the break, there are performances by the Matangi String Quartet, the Calefax Reed Quintet, Mohammad Motamedi and a collaboration between them. The three ensembles and singer Motamedi accomplish a special arrangement together by Kaveh Vares and Rafael Fraga.
Rima Khcheich, Mike Fentross and Maarten Ornstein is a combination of a baroque musician, an Arab singer and a jazz musician united in their love for beautiful songs that enable and aspire them to sing and play their best. Songs from the west and from the east, both old and new. Music with new lyrics in Arabic fitted to 17th century baroque songs and innovative arrangements for the classical Arabic ones. If you ever need any proof that music is an international language, this is it. The Lebanese vocalist Rima Khcheich has gained international repute and admiration for her gift of performing complex Arabic classical forms.
Mohammad Motamedi is one of the biggest names in the Iranian singing world. He is known for Tahrir, an elegant Iranian singing technique that he effortlessly uses and infuses with his impressive own touch. Motamedi sticks to the Persian classical music repertoire 'radif,' but also makes room for subtle innovations in tradition. He featured 'Qasida' together with Rosario la Tremendita a dialogue between Persian classical singing and flamenco at Flamenco Biënnale Nederland, with which he made his debut in the Netherlands.
Matangi String Quartet consists of the latest generation of classical musicians and is at the top of Dutch classical chamber music. The Quartet is often described as communicative, provocative and versatile and is best known for its innovative cross-over projects, where it seeks out the boundaries of classical music.
Calefax Reed Quintet consists of five passionate wind instrumentalists, virtuosos, and arrangers. They created a new genre: the reed quintet, and thus form a source of inspiration for the latest generation of reed players. It is a classical ensemble with a pop mentality.
Featured Composers: Raad Khalaf; Calliope Tsoupaki; Babür Tongur; Willem Jeths; Jean Luc Fafchamps; Kaveh Vares – special arrangement for Calefax, Matangi, Rima Khcheich, Mike Fentross, Maarten Ornstein and Mohammad Motamedi
The concert is organized in collaboration with Oriental Landscapes and Gaudeamus.
Performers:
Calefax Reed Quintet:
Oliver Boekhoorn – oboe
Ivar Berix – clarinet
Raaf Hekkema – saxophone
Jelte Althuis – bass clarinet
Alban Wesly – bassoon
Matangi String Quartet:
Maria-Paula Majoor – violin
Daniel Torrico Menacho – violin
Karsten Kleijer – viola
Arno van der Vuurst – cello
Rima Khcheich Trio:
Rima Khcheich – vocal
Mike Fentross – theorbo, vihuela
Maarten Ornstein – bass clarinet
Mohammad Motamedi – vocal
Details:
Categories
Amsterdam&nbsp, Concerts
Venue:
The Duif Church, Prinsengracht 756, 1017 LD Amsterdam